World
Tofino rocked by 'highly inappropriate behavior' at the event
The Tofino Resort and Marina, purchased in 2016 by a group that includes Mill Bay-based developer Andrew Purdey and former Vancouver Canucks Willie Mitchell and Dan Hamhuis, is reeling from an apparent scandal.
Article content
TOFINO — Walk down Campbell Street, the main drag in this jewel of a small town that's at one end of the Earth, and you can spot three kinds of people.
Article content
The tourists, here to fish or surf or just enjoy the beauty of the West Coast, are obvious. Mostly middle-aged or retired. Good walking shoes. Fleece vests.
Article content
There are the locals, who aren't dressed like the tourists.
And then there are the young people, almost exclusively here to surf and work.
That's what pulled Miquel Recasens all the way from Barcelona. A place where you can ride waves and reel in some salmon, that doesn't look anything like the beaches of Catalonia.
Wearing a hat from a Squamish craft brewery, his shaggy hair tucked behind his ears and the long sleeves of his casual skateboarding shirt rolled up to his elbows, he said Tofino has proven to be a great community to live.
"As long as you love surfing and you love outdoor activities," he said with a smile while standing outside the Long Beach Surf Shop, where he worked all summer.
Article content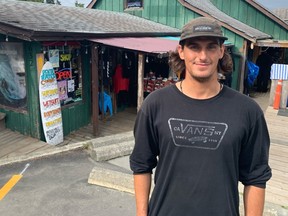 Lately though, all people have been able to talk about is what happened next door.
The Tofino Resort and Marina, purchased in 2016 by a group that includes Mill Bay-based developer Andrew Purdey and former Vancouver Canucks Willie Mitchell and Dan Hamhuis, is one of the town's major employers. It is reeling from an apparent scandal, with staff walking out in protest and a sudden management overhaul.
On Wednesday, the resort announced a change in management after "highly inappropriate behavior" took place at a weekend event on the premises. What exactly caused the change remains hard to pin down.
Recasens has friends who work at the resort. Like many other young people, he was at a Sunday night event at 1909 Kitchen and Bar, the resort's upscale restaurant.
Article content
The event, which featured a live band, was tied to the Race for the Blue fishing derby, an open-water bluefin tuna fishing event that pulls in deep-pocketed fishermen. Entry fees run in the thousands of dollars, and there are plenty of side bets placed.
The tournament is run by Mitchell, a long-time fishing aficionado who worked on the fishing docks in his youth up in Port McNeill, near the northern end of Vancouver Island.
Sunday's event was part of a busy night, filled with much revelry.
The next morning, it became apparent that something inappropriate had happened the night before. As a result, the staff threatened a collective walk out in solidarity with a colleague's treatment.
In response, the resort's management sent an email to staff saying that the 1909 Kitchen and Bar would be closed for the next week.
Article content
Everyone would still be paid, they were told. And there was to be a change in management.
Boats were on the water for the third day of the fishing derby, but the rest of the derby was to be canceled and so was the bar's concert series.
Stories started swirling around Tofino.
Kady Savard, a veteran musician from Victoria, was fronting the band on stage on Sunday at 1909.
The night, she said, was at first chaotic and fun, but by the end of the set the vibe had shifted.
She heard a lot after she left the stage that night and in the following days.
"Everybody is talking about it," she told Postmedia Thursday.
After the show, she found some space outside to cool off and found herself chatting with a member of the restaurant staff.
Another staff member approached, telling her colleague that one of their co-workers was going to quit over an incident that had taken place earlier.
Article content
Savard's band got paid, but she's concerned the bands scheduled for the rest of the week won't be.
"All of these bands are out of money," she said. "It's going to be hard to re-book on short notice."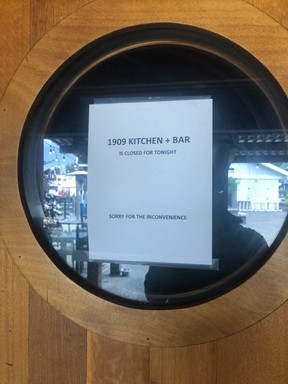 By Wednesday morning, the resort acknowledged the incident on their website. An interim manager had been brought on board, the website statement said. Later, the statement was updated to say a counselor was being brought in and that management would "continue to take steps to ensure the absolute well-being of our team."
On Wednesday morning Mitchell deleted his Instagram, which he'd long used to share photos of his fishing adventures, of his conservation advocacy and of his family.
By Thursday morning, he'd also deleted his Twitter account.
Article content
The Race for the Blue Instagram account has also been taken offline.
Questions about the current ownership structure, who is managing the resort and whether the police were contacted about the 'inappropriate behavior' have all gone unanswered. Efforts to reach Mitchell, Hamhuis and Purdey have been unsuccessful.
The RCMP declined to comment if an investigation is ongoing or if any arrests have been made.
Asked for comment on the impacts the cancellation of such a high-profile event might have on Tofino, Dan Law, mayor of the District of Tofino, demurred.
"I am at UBCM with Tofino Council. Other than what I read in the news, I have no knowledge of the situation at TRM. As such, I cannot comment," he said in an email.
Shaun Snelling, formerly sous chef at 1909 and now executive chef at Long Beach Lodge, said he understood the change in management meant that Mitchell was out.
Article content
Mitchell, he said, had been involved in managing the business in recent months because the resort had found itself without a general manager. There had also been turnover in the kitchen, with Terry Somerville, who had only taken over as executive chef in 2021, moving on earlier this year for personal health reasons.
Snelling said he ran into Mitchell last month and the two ended up talking about the state of the resort's business. Snelling helped re-open the restaurant after Mitchell and his partners bought the place in 2016.
"It's all been him. It's been his vision," he said of Mitchell. "The Race to the Blue, the whole event was Willie's baby. Nobody else in Canada had done an open-water Tuna fishing derby."
Article content
On Tuesday night, the Lonely Dougs, the band that was meant to play 1909 that night, played a show up the road at a long-standing cafe called Common Loaf.
It was a show of solidarity, the band said, and to create a safe space for the rattled 1909 staff, their friends and loved ones. Proceeds from the special performance were to be donated to charity.
"We thought it was the right thing to do," said Kieran Campbell, a member of the band.
"I think it's really important, as a community, a town, we're a really super community town … that they were still playing after all that happened," said Recasens.
"We were super upset about (what happened). So let's be part of the community and actually do something about it," he said of the motivation behind playing on.
"Super lovely from the guys out there. Shoutout to them."
High-profile Tofino fishing tournament canceled after 'inappropriate behaviour'

Cameras to be analyzed in probe into fatal BC whale watching accident