World
Thousands of Montrealers march in opposition to Bill 96
Many combatants said while they are in favor of protecting the French language and culture in Quebec, Bill 96 would have disastrous consequences in education, language and healthcare sectors.
Article content
It was an unusual scene on a bizarrely hot day in May.
Article content
Led by the political satire singing group Bowser and Blue, several thousand took to the streets to march against a proposed law that aims to bolster the status of the French language in the province.
Many protesters said while they are in favor of protecting the French language and culture in Quebec, Bill 96 – which is expected to come to a vote in the National Assembly at the end of the month – would have disastrous consequences in education, language and healthcare sectors.
The law would give increased powers to the Office québécois de la langue française, the province's language watchdog, such as the power to search and seize without a warrant. It would also restrict service in English in health-care institutions and the courts.
Article content
"The politics of François Legault are dividing Quebecers in all kinds of ways, and we have to stand up for what is not right," said Quebec Liberal Party leader Dominique Anglade. "We are all in favor of supporting and promoting the French language; the issue here is that it is impacting access to justice and healthcare. There are a lot of people demonstrating today because they realize it will impact our future. "
When introduced before the march began, Anglade was greeted by cheers as well as a smattering of boos from the crowd, perhaps because of anger over an amendment introduced by the Liberal party to require English-speaking students to take more courses in French.
While that amendment was softened during hearings last month, it remains a sore point among English CEGEPs. Students say the requirement under the law to take either three core courses, or three additional French-language courses would affect their future, and the law will create two tiers of students, as allophones and francophones in English CEGEPs will have to take French proficiency exams to graduate, while English-speakers will take an English exit exam. The law also limits the enrolment of francophones into English CEGEPs.
Article content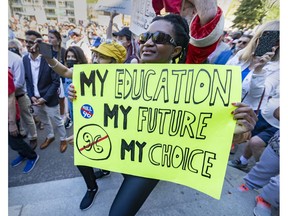 The protest began at Dawson College at 10 am, and wound its way down Atwater Ave., along St-Catherine St. W., and ended in front of Premier François Legault's Montreal office at Sherbrooke and McGill College Ave.
Legault has defended Bill 96 as realistic, balanced and necessary to protect French. He said the rights of the English community will be respected if it becomes law.
"My son is going to CEGEP in a couple of years; he has learning difficulties, and has been in French immersion since he was a kid, but taking more French courses is going to be an extreme issue for him, "said Notre-dame-de-Grâce resident David McLeod. Wearing a black kilt and carrying a black parasol with the design of a sunflower on the inside, McLeod denounced "legislative bullying," that he said was done with very little consultation. He said while the government mind on the bill seems to be made up, it's still important to voice opposition. "I think people standing up and saying that their rights matter always makes a difference."
Article content
The protest was peaceful as it wound its way through the downtown core. Police escorts were at the front and rear of the line of marchers.
Adam Bright said he was there in hopes of raising awareness about the bill, whose finer points are not well known.
"It's kind of heartbreaking to see how few people actually understand what this bill is going to do to their opportunities," said Bright, who teaches literature at Dawson College. Bright believes he will lose his job if the bill is passed, because there will be less of a need for English instruction in the CEGEP system. "So many of us are investing in French in Quebec. My son is going to a French daycare and will go to a French elementary school, but the bill is based on a misguided notion that to learn English, it somehow imperils French. "
Article content
As the crowd made its way to McGill's Roddick Gates, there were a group of about 15 supporters of the bill playing music and singing in French, inviting everyone to sing along.
There were a few boos, and screams, but there was no serious clash between the two groups.
"The goal of the French language is to unite people, so we wanted to greet people and celebrate our culture with them," said Montrealer Florence Beaudoin. "French is important, and we are in a French province, but it's difficult to be served in French in Montreal. It's not normal. I'm here to support the language. "
Breaking down the key points of Bill 96

Editorial: There are many reasons to oppose Bill 96