World
The Weather Network – Summer-like weather picks up in a hurry with possible May heat wave
Thursday, May 12th 2022, 4:01 pm – Spring may have taken its time to arrive, but this week's temperatures across parts of Ontario and Quebec will fast forward us right into the heart of summer.
This spring has certainly tested the patience of Canadians alike, with rounds of late wintry weather and a lack of consistently warm temperatures.
In fact, it's been 30 years since the city of Toronto recorded a 20 ° C this late in the season.
But the month of May is making up for it in a hurry, with soaring temperatures and 30-degree days being felt across parts of northern and eastern Ontario and into southern Quebec as well. This week could actually mark the earliest heat wave recorded in Quebec's history.
While there's no longer a set criteria to define a heat wave, it's generally three or more days where temperatures reach 30 ° C or higher. That will be the case for several regions starting Thursday.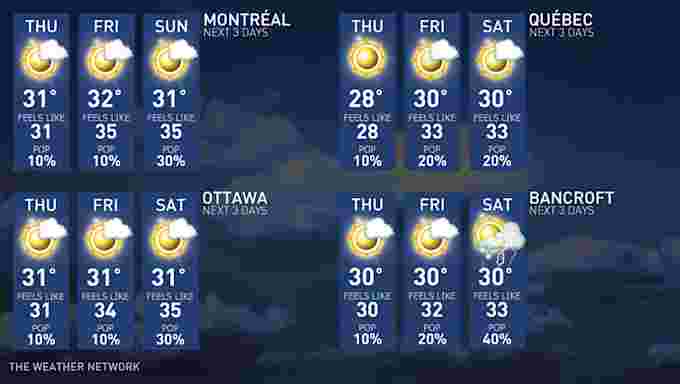 MUST SEE: You may never guess which Canadian city hit 30 C first this year
According to MétéoMédia, there have been very few heat waves that have occurred in Quebec during the month of May.
"Since the start of data collection in 1942, Montreal has observed only four heat waves, with the last being in 2020," MétéoMédia stated. "Moreover, on May 27, 2020, Montreal was treated to a 36.6 ° C day and this was the hottest temperature recorded in May for the region."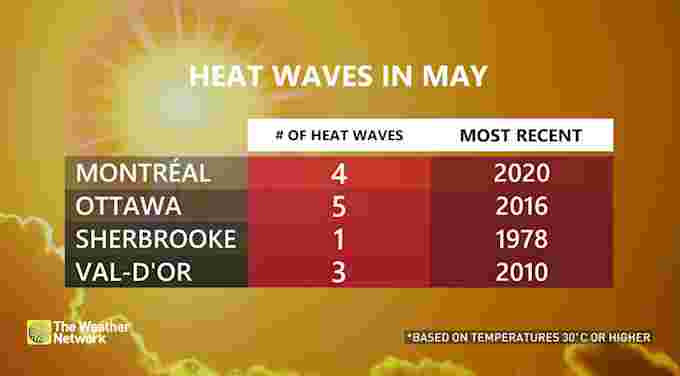 This would also be the earliest heat wave on record for the city of Montreal, with the previous record dating back to May 17-19, 1962.
"So the next few days have the potential to mark the history books," says MétéoMédia.
While the rising temperatures may tempt you to find sources to cool off, officials warn against dipping into any larger bodies of water such as lakes and rivers, which remain dangerously cold. In May, the bodies of water are barely free of the ice, and thermal shock can occur when the water temperature is below 10 ° C.
The summer-like weather will continue into the weekend, with temperatures sitting in the mid to upper 20s, and into the lower 30s for eastern Ontario and southern Quebec.
QUICK SHIFT BACK INTO APRIL-LIKE TEMPERATURES, RISK OF FROST NEXT WEEK
"We'll see temperatures turn much colder next week however, with daytime highs more typical of April and some rural areas even having a risk for frost," says Dr. Doug Gillham, a meteorologist at The Weather Network.
Temperatures should rebound back to seasonal and possibly above seasonal for the start of the May long weekend that follows.
Watch the video above for a closer look at the rising temperatures and potential early May heat wave.
.