Innovation
Onto Innovation Stock: Buy If Shares Dip (NYSE: ONTO)
After trading in the teens for most of the last decade, Onto Innovation (NYSE: ONTO) attracted bullish investors in the last three years. Technology investors recognize Onto's unique perspective in serving the semiconductor industry. It optimizes customer critical path of progress in addition to serving wafer quality, 3D metrology, and lithography for advanced semiconductor packaging.
Late last year, ONTO stock peaked at over $ 100 when Nasdaq's (QQQ) new highs at the time lifted its share price. Ignoring the stock market noise, investors should revisit the company's strong fourth-quarter results.
Strong Fourth Quarter and Outlook
Onto posted revenue growing by 45.5% year-over-year to $ 225.64 million. Non-GAAP EPS was $ 1.23. When the company includes items such as merger and acquisition-related expenses of $ 4.6 million and $ 13.7 million from amortization of intangibles, Onto earned 95 cents a share.
For the fiscal period ended April 2, 2022, management expects revenue in the range of $ 226 million to $ 240 million, diluted GAAP EPS of 86 cents to 93 cents, and $ 1.13 to $ 1.20 in diluted non-GAAP EPS. Those targets assume Onto's suppliers will meet their remaining scheduled deliveries this quarter.
Onto already expects the supply disruptions to harm manufacturing activity. It is planning for $ 100 million in backlog flowing through this year and into 2023. Margins should still expand throughout the year. Onto will find cost efficiencies on the engineering side.
Onto's Billion Dollar Revenue Opportunity
Onto has a good chance of Wafer Fab Equipment accounting for at least $ 1 billion annually. Investors may set a $ 1.3 billion target. The company is introducing new products or already has some in the pipeline. With relentless customer demand drivers, the company has a robust business model.
Onto's lithography systems will lift its gross margins. For example, it is integrating its complimentary inspection, lithography, and software technologies into StepFAST. This improves both productivity and yield. In the fourth quarter, Onto delivered StepFAST to a leading supplier. In the first quarter, it will recognize sales from its lithography systems. It booked systems that customers awaiting acceptance in its backlog. Once Onto recognizes those orders, investors should anticipate the company will raise its guidance as soon as the next quarter.
At an annual Needham growth conference, Onto highlighted its new product innovations. They set the foundation for a stronger future because of the markets they reach. Furthermore, it results in less freshwater usage, less landfill waste, and uses 10% more renewable energy: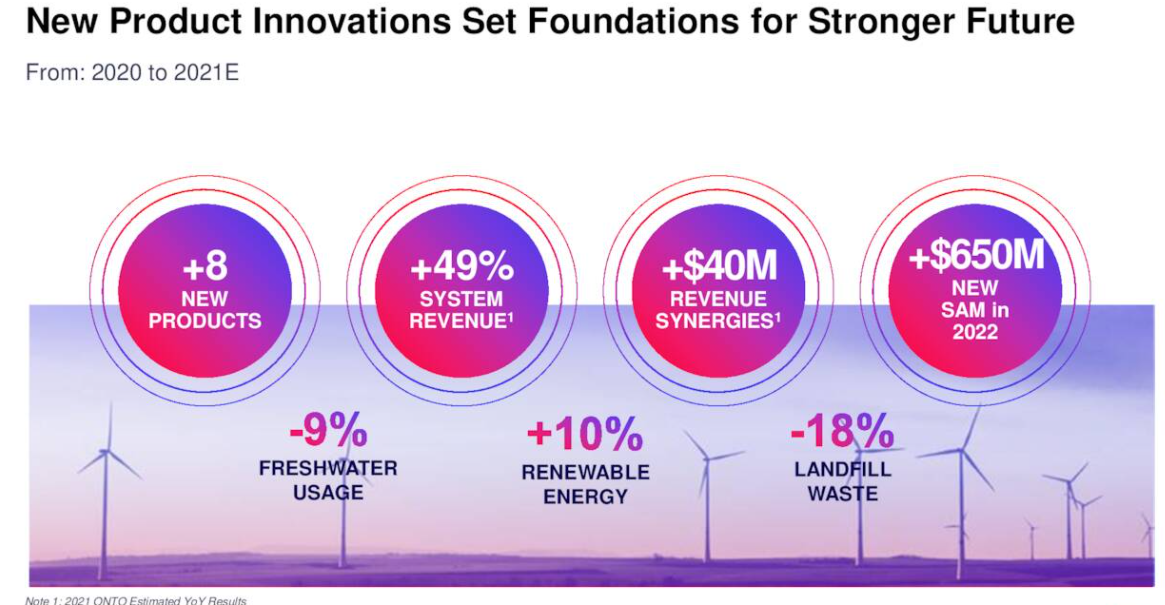 Onto expects its served available market to increase by over $ 100 million this year. It already grew by $ 650 million from 2020 to 2022: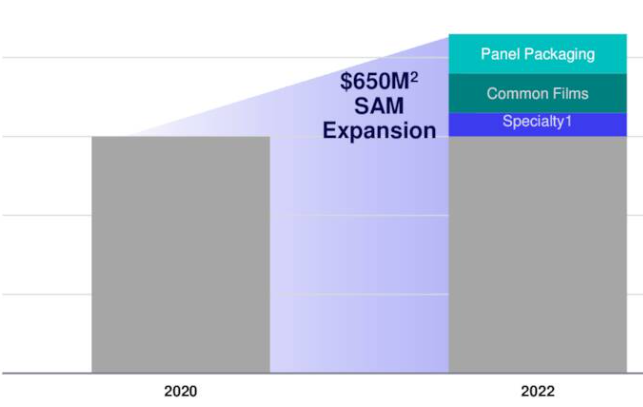 Strong demand from 5G, virtual reality, electric vehicles, IoT, artificial intelligence, and cloud computing will support compounded annual growth rate of over 25%. Investors should look at Onto as a secular growth story. It is no longer a cyclical semiconductor firm.
Onto's share price trades at a premium because of the growth rates shown below: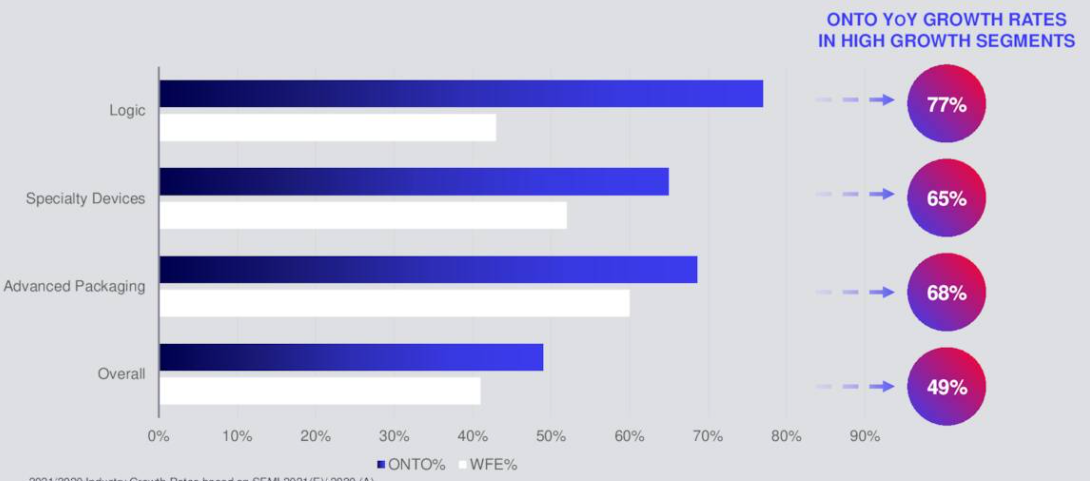 Price Target
Investors may build a 5-year discounted cash flow model (revenue exit). In the base case, assume Onto's revenue grows by at least 10% to 15% annually. The company needs to achieve revenue of $ 1.65 billion by fiscal year 2027:
(USD in millions)

Input Projections

Fiscal Years Ending

22-Jan

23-Jan

24-Jan

25-Jan

26-Jan

27-Jan

Revenue

789

986

1,134

1,304

1,500

1,650

% Growth

41.80%

25.00%

15.00%

15.00%

15.00%

10.00%

EBITDA

223

276

318

365

420

445

% of Revenue

28.20%

28.00%

28.00%

28.00%

28.00%

27.00%
Model from finbox
Set a terminal revenue multiple of 3.5 times. This suits a company that is growing at a healthy pace.
| | | |
| --- | --- | --- |
| Metrics | Range | Conclusion |
| Discount Rate | 8.3% – 7.2% | 7.80% |
| Terminal Revenue Multiple | 3.3x – 3.7x | 3.5x |
| Fair Value | $ 101.71 – $ 113.91 | $ 107.69 |
Model from finbox
The above assumptions imply that Onto is worth almost $ 115.
Risks
Onto is constrained from ramping up production and capacity. Supply disruptions are hurting the sector. Fortunately, it has several customers who are $ 100 million in revenue opportunities. As constraints ease, Onto will realize sales.
Onto may not meet a $ 1.4 billion annual revenue model target. This would constrain its gross margins from 56% to 57%. Investors may expect earnings per share at around $ 5.20, compared to $ 8.35.

Stock Score
Onto's value score has a grade of C +. Nasdaq's ongoing correction and borderline bear market will continue. Investors may avoid technology companies trading at unfavorable values.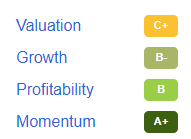 Shareholders get a profitable company with strong growth. ONTO stock has a high momentum score. This suggests that the stock is due for a pull-back as stock buying pressure eases.
Your Takeaway
Onto stock recently bottomed in the mid- $ 70s. The company needs to post quarterly results that exceed estimates to break out above $ 90. Investors seeking exposure to the fastest growing sectors of 5G and AI should consider Onto. Onto's semiconductor solutions are in the early phases of expanding.