Insurance
Kyle Shanahan: 49ers playbook not changing for Trey Lance; Jauan Jennings tough to cover
Some expect the San Francisco 49ers offense to evolve with second-year quarterback Trey Lance at the helm. While that is probably true, it will not be by design. There won't be a drastic change to the playbook. Instead, Lance can extend plays and potentially get the football further down the field for some explosive plays.
Head coach Kyle Shanahan spoke with reporters before Saturday's practice and was asked about the playbook. Is he considering changing it to take advantage of Lance's unique athleticism?
"Not really at all," Shanahan responded. "I mean, you do the same stuff, and you just got a couple of more elements. When you have the threat of a running quarterback, that can change defenses. And when you see how that changes them, then you adjust to that.
"We added stuff in last year. We worked on stuff. Even when you do stuff that seems different to everyone else, it's the exact same play to the O-line. It's the exact same play to the running back. It's the exact same play to the receivers. But if they don't account for him, then he gets to run. So it doesn't really change as much as it seems."
Mike McGlinchey, one of the anchors of the offensive line, doesn't expect anything to change for him now that it is Lance, not Jimmy Garoppolo, at quarterback.
"All of our plans are the same," McGlinchey said Friday on KNBR. "The way that we slide protection is the same. The way that we build out our protections is the same. And his spots are all the same. Now what he does with it after the snap, that's not my concern. I can't see him back there, so if he stays on that spot and something breaks, it breaks. … He's a pretty special athlete, and looking at him, he definitely looks the part too."
---
The wide receiver talk of training camp has focused primarily on Deebo Samuel and Brandon Aiyuk. Samuel finally signed his contract extension after a drama-filled offseason, and Aiyuk has developed into a headache for 49ers defensive backs practicing against him. One other wideout—Jauan Jennings—could make a leap in 2022, his third NFL season. Shanahan was asked how he evaluates wide receivers like Jennings coming out of college, finding diamonds in the rough.
"You've just got to watch how they separate versus people and how they move," Shanahan said. "Jauan is a little unusual in his movement, so it doesn't jump off to everyone, but if you watch him, he creates an edge on people every single play. And when he doesn't, he never stops running. So he's violent and big enough that he fights through everything.
"And then he has the hands, even when he's covered, he's stepping back to the wall, which was similar to [Kendrick Bourne] in that way. But Jauan is a little unorthodox in his movement, but I feel, if you talk to the corners out there, he's been the toughest one to cover [other than Aiyuk]."
Nobody's perfect. Did you find a mistake in this article?
Report it.
Facebook Comments
More San Francisco 49ers News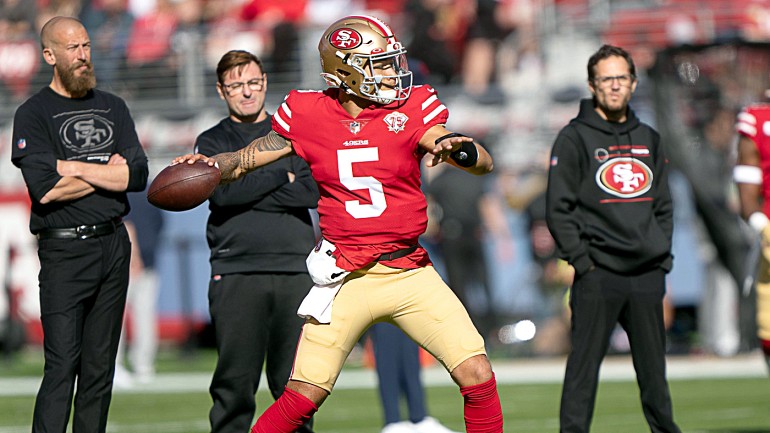 49ers QB Trey Lance's arm fatigue "not a concern at all," according to Kyle Shanahan
By Rohan Chakravarthi
Jul 25
Over this offseason, several reports have floated around that San Francisco 49ers quarterback Trey Lance experienced arm fatigue during portions of last season, as well as this offseason, which has left fans concerned about the quarterback's durability. CBS Sports's Ryan Harris first originated the topic, speaking about Lance's arm fitness, before The Volume's Colin Cowherd and Mike Silver reiterated the idea, stating they've heard concerns from several sources about Lance's arm fatigue, going as far as saying that the quarterback needed several days off after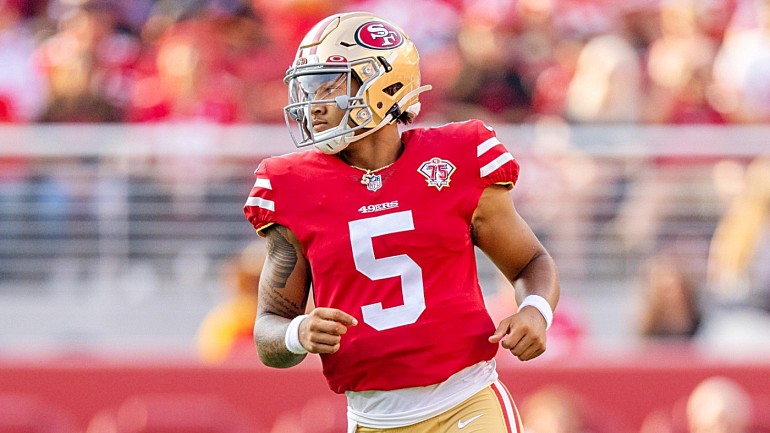 Kyle Shanahan: 49ers made 2022 QB decision a year ago with Trey Lance
By Rohan Chakravarthi
Jul 25
On the eve of training camp, San Francisco 49ers head coach Kyle Shanahan spoke with the Athletic's Tim Kawakami, focusing on his young quarterback Trey Lance as he entered his first season as the starting quarterback for the 49ers. Reminiscing on last season, Shanahan praised Garoppolo for his performance in leading the 49ers en route to the NFC Championship Game, but admitted that the 49ers figured out their quarterback situation last year with the selection of Trey Lance, understanding that the salary cap made it tough to carry Garoppolo for 2022. "We had an awesome run with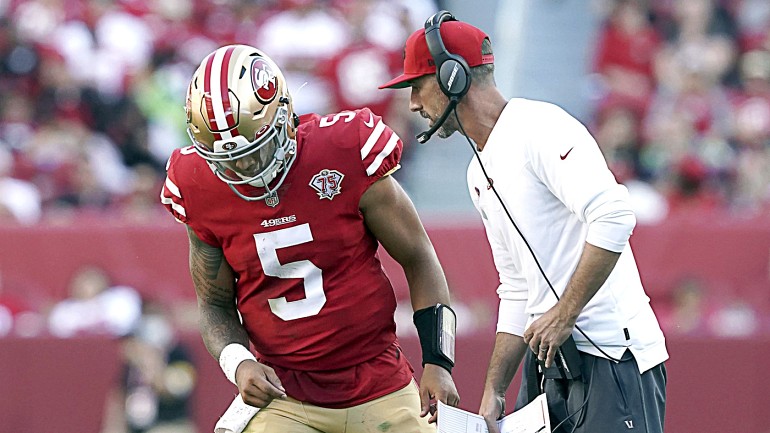 Why Kyle Shanahan is 'pumped' about his 49ers roster featuring inexperienced Trey Lance at QB
San Francisco 49ers head coach Kyle Shanahan is excited about returning to football. The team starts training camp this week, and Shanahan believes he has a highly-competitive roster—maybe even his best as a head coach. "It's about as good of a roster as I've [had]," Shanahan told reporters on Tuesday. "I love our team right now. When I just sit and go through our positions, some of the young guys that we've added, some of the young guys in the last couple of years who have quickly become some of our better players and leaders, I think our team's in a great spot to turn it over to a quarterback who hasn't played before." That quarterback is last year's No. 3 overall pick, Trey Lance, who will take over as the team's starting quarterback. Of course, he has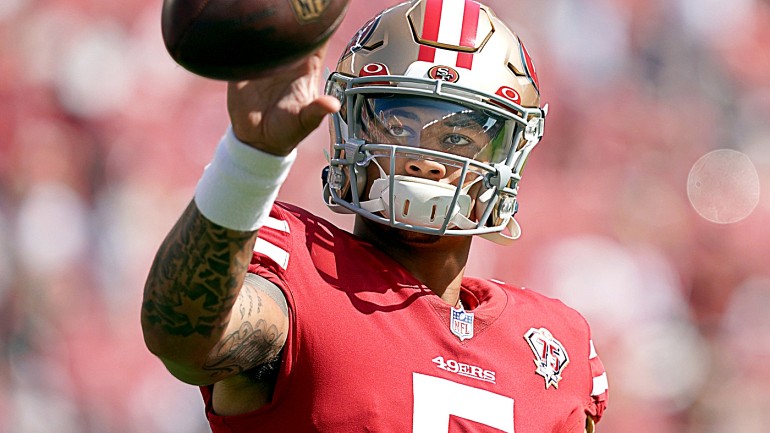 49ers' Kyle Shanahan assesses how far Trey Lance has come—and what he still needs to show during camp
49ers head coach Kyle Shanahan made it clear on Tuesday that the organization is all in on Trey Lance as the quarterback this season, declaring to reporters during his pre-training camp media session that this year's team was "Trey's team." But it took some time for Shanahan to reach that level of confidence in Lance, and there are still some questions about his new starting quarterback that Shanahan hopes to find answers to in the weeks and months ahead. The 22-year-old Lance came to the 49ers as a talented but raw prospect out of North Dakota State, where he played just one full season as a starter (NDSU's 2019 national championship season) before being limited to
.