Stock market
Canadian, US workers demand non-health benefits in tight job market
'Gone are the days when basic health insurance, paid time off, and retirement plans were good enough to attract people to the workforce'
Article content
Good morning!
Article content
Workers are becoming more demanding as employers across the world struggle to attract talent in a tight labor market.
A new Ceridian survey revealed that a majority (83 per cent) of Canadian and US workers are seeking non-health benefits from their workplace. Most (82 per cent) said they would be more loyal to their employers if modern benefits, such as on-demand pay and flexible work arrangements, were offered.
"Gone are the days when basic health insurance, paid time off, and retirement plans were good enough to attract people to the workforce," Seth Ross, general manager of Dayforce Wallet and consumer services at Ceridian, said in a press release. "The market is demanding that employers step up and start offering modern benefits like on-demand pay to meet the needs of their workforce."
The new demands are especially popular among the millennial and gen-Z population as many of them enter the workforce. The bulk (82 per cent) of those between the ages of 18 and 34 said they expect their current or future employer to help support their financial security.
"As we enter the third year of the pandemic, it's clear that many North Americans, especially the younger population, want employers to support their financial well-being," said Ross.
Part of the reason why is because rampant inflation has left many workers struggling to make their payments. Over half (54 per cent) said they had trouble covering their expenses between pay periods over the last six months. That jumps to 88 per cent for the millennial and gen-Z cohort.
Article content
Presently, most (86 per cent) of the younger cohort said they have access to one or more non-health benefits. Still, almost a third (32 per cent) indicated that their benefits package does not meet their expectations. If their current workplace was to offer more financial wellness tools, however, more than eight in 10 (82 per cent) said would be less likely to look for a new job.
On-demand pay seems to be one of the most sought-after benefits among younger employees. A majority (63 per cent) of workers who do not have it said they would be less worried about their finances if they did. A further three in four (78 per cent) said it would affect their decision to choose an employer.
A separate Ipsos Group SA study last year found that a majority (68 per cent) of working Canadians would pick a job with a good benefits plan over another job that pays better but does not have a benefits plan.
As a result, leading companies have begun implementing non-health benefits to remain competitive in the job market.
Lund Food Holdings Inc. is offering its employees on-demand pay to help ease their financial distress. "The feedback has been overwhelmingly positive," Casey Enevoldsen, vice president of employee experience at Lunds & Byerlys, said in the press release. "Not only that, but by giving our team members the flexibility to get paid after each shift, we have gained a significant competitive edge against other employers in the market."
Article content
_______________________________________________________________
Was this newsletter forwarded to you? Sign up here to get it delivered to your inbox.
_______________________________________________________________
THE VIEW THROUGH THE WINDOW A close-up view of the International Space Station taken by an astronaut in 2011. Canadian astronauts Dave Williams, Chris Hadfield and Robert Thirsk believe the International Space Station offers the world a model for collaboration. "It is the greatest lesson of the International Space Station: the opportunity to learn how effective collaboration actually works," said Williams. Read the full story by Marisa Coulton as the three weigh in on innovation, climate and the future of spaceflight. Photo by NASA / AFP via Getty Images
_______________________________________________________
Today's data: Canadian survey of employment, payrolls and hours; US new home sales and University of Michigan consumer sentiment index
Earnings: Clean Air Metals Inc., Aleafia Health Inc., Icanic Brands Company Inc., Mimi's Rock Corp., Trillion Energy International Inc., Evertz Technologies Ltd., Silver Spruce Resources Inc. and Neighborhood Pharmacy Inc.
_______________________________________________________
_______________________________________________________

Article content
_______________________________________________
Canadian banks fell more than 20 per cent from their record high set in early February as recession fears send investors fleeing. Toronto-Dominion Bank led losses as it dropped as much as 3.6 per cent to its lowest point in nine months. Canadian Imperial Bank of Commerce and Bank of Nova Scotia fell as much as 3.4 per cent and 3.3 per cent, respectively. Going forward, analysts are warning that profits may not be as strong. Read on for more details.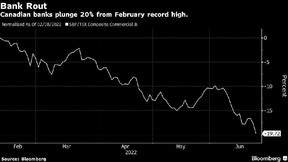 ____________________________________________________________
Want to earn big returns without the shaky stock market? Try art. Our content partner MoneyWise has the scoop on why art investment is no longer for the wealthy. With a new platform called Masterworks, you can take advantage of the money to be earned from iconic works of art, alongside wealthy collectors like Jeff Bezos and Bill Gates.
____________________________________________________________
Today's Posthaste was written by Noella Ovid, with additional reporting from The Canadian Press, Thomson Reuters and Bloomberg.
Have a story idea, pitch, embargoed report, or a suggestion for this newsletter? Email us at [email protected], or hit reply to send us a note.
Listen to Down to Business for in-depth discussions and insights into the latest in Canadian business, available wherever you get your podcasts. Check out the latest episode below: